BELL COUNTY RESCUE SQUAD, Inc.
STATEMENT OF MISSION
THE MISSION OF THE BELL COUNTY RECUE SQUAD
is to save lives and to help protect the citizens
of Bell County, Kentucky, to assist other
departments within the county or other counties
when called upon for mutual aid assistance and
to help those unable to help themselves.
The Bell County Rescue Squad is on call 24/7 for Emergencys and is dispatched out of Bell County Dispatch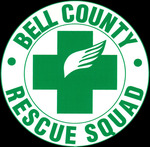 "VOLUNTEERS THAT CARE"
You can now submit your donations using a credit or debit card by clicking on the button below.
All Donations are appreciated!!!